---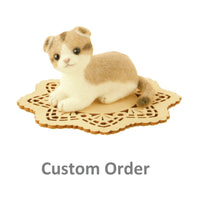 Custom order of a wool felted Scottish Fold Kitty.
Size - approximately 3.4"
Estimated delivery time depends on demand.  Currently the earliest estimated delivery time is towards the middle of November.
Please inquire about estimated delivery time if your purchase is time-sensitive and you need to receive soonner than the estimated time listed above.